What is a back translation? (3.2a)
What is a back translation? What Makes a Good One?​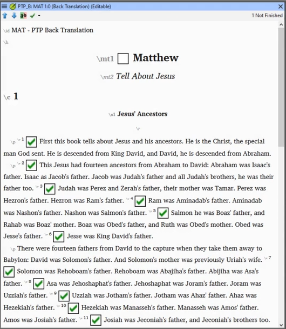 A back translation is a way to check a translation. In Bible translation, the vernacular text is translated into a major language so that a translation consultant who is not fluent in the vernacular can examine the translation and help the team improve it. In Paratext, a back translation is done in a separate but linked project.
What are the qualities of a good back translation?​
Done by someone not involved in drafting the vernacular translation.
Natural, and reflect how the back translator understands the sense of the vernacular text.
Without using any helps or other Bibles.
Reflect what the vernacular text says and not what it should say.